You CAN Win Grants for Your School:

Secrets and Strategies from a Pro (Part 2)

Monday, Apr. 25 at 4 p.m.

 Eastern Time

REGISTER HERE
Presented by Toni Rockis, PhD, CGW, President & CEO of Granted, Inc. and Grantmamas, Inc.
Sponsored by CDW-G
Visit GetEdFunding




How Teachers Are Using Instagram in the Classroom

Tuesday, Apr. 26 at 5 p.m.

 Eastern Time

REGISTER HERE
Presented by Shannon Holden, Assistant Principal, Republic Middle School, MO
Visit TechTools for the Classroom

52 Ways to Boost Children's Brain Development

Wednesday, Apr. 27 at 2 p.m.

 Eastern Time

REGISTER HERE
Presented by Jill Stamm, Ph.D., Co-founder of New Directions Institute for Infant Brain Development
Sponsored by Gryphon House
Visit Early Learning Book Chats

Thank you to all of our partners!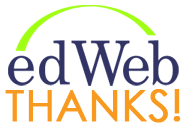 edWeb.net has partnered with many organizations to create free professional learning programs on a variety of topics for educators.


Visit our Partner Page to see who we are working with and what they are saying. Keep up with the most recent news and offers in our Partner News.

edWeb.net is a free professional learning and social network that makes it easy for teachers and all educators to connect and collaborate with peers, share information and best practices, and spread innovative ideas to improve teaching and learning.